January 20, 2011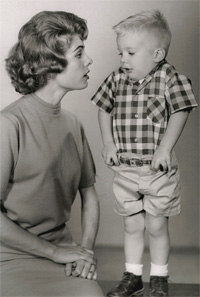 I was born on a Friday the 13th during the waning months of the Eisenhower administration in then Holy Cross Hospital (now Salt Lake Regional) in Salt Lake City, Utah, to Jeanne Diane and Marcus Sidney Smith. My first name, Becker, is after my mother's maiden name. I am the only son of an only son.
I grew up in Denver, Colorado, graduating from George Washington High School in 1978. Eschewing college and all conventional expectations, I decamped to California (following a girl I was in love with) and launched an episodic life of diverse pursuits, passions, occupations, and relationships.
I began by studying yoga under the tutelage of a master I'll call J. This was a serious and formative undertaking, and I gained insights into myself and the world that have been important to me since. I still practice forty years later many of the disciplines I acquired then. At that time I also converted to Catholicism, and this too has lasted.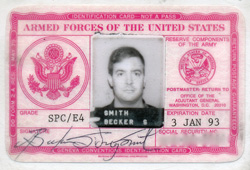 I was nevertheless an immature and troubled youth. Increasingly alienated from friends and family, only slowly did I come to grips with my aimlessness and ineffectiveness. Six years out of high school, determined to change the equation, I enlisted. I had my 25th birthday while completing tanker training at Fort Knox, Kentucky, and emerged shortly before my 30th birthday with an honorable discharge and a commendation for my service.
I emerged also with an uncharacteristic focus: I finished my undergraduate degree in 3½ years magna cum laude from Central Washington University, paid for by Uncle Sam. In the process I discovered a wholly unexpected passion for mathematics. I stayed on for a master's degree, then crossed the Atlantic to spend a glorious academic year at St. Edmund's College, Cambridge University, where I completed the Math Tripos, Part III.
I then became a graduate student in mathematics at the University of Colorado, Boulder, and too many years later wrenched a PhD from their reluctant fingers. It was a tough experience, and took the wind out of me. Nevertheless it licensed me to become what I had long intended, a college professor.
I loved and labored at Radford University in Virginia for seven years, and suddenly awoke to the fact that I had passed decisively from youth into middle age. And, it was time to apply for tenure. Taking stock, and gathering in my hands the threads of my intellectual, professional, and creative lives, I determined to change course yet again.
I am now blessed by circumstances that allow me to focus on creative, academic, and entreprenuerial pursuits too long and too often set aside for more pressing obligations. In a rural Virginia home with a small studio and a shop, projects long delayed and others just starting to gestate compete for each day's energy. Like my father and grandfather, I will devote the second half of my adult life to doing the best creative work of which I am capable. My first half-century has been a perfectly satisfactory lifetime in itself; it is now the foundation of all that comes next.
Some trivia:
I got the third marriage right.
I have an only son.
I was with my father when he died in 2009, in the same hospital in which I was born.
My father's parents, Sidney Paul Smith and Ruth Wolf Smith, were noted Utah artists.
My mother's father designed the fuel system for the P52 fighter in World War Two.
My father's mother's father was a Palestinian Maronite, from Haifa, and the only (other) Catholic in my family that I know of. It was in his honor that I was named after my mother's maiden name, an Arabic tradition.
My great-great-great grandfather John Paternoster Squires was Brigham Young's barber, and had four wives. I am thus a sixth generation native of Salt Lake City, and it is the place to which I remain most attached.
I was the last student of Jan Mycielski, and the only one to finish a PhD with him in the last 25 years of his professional life.
While at Cambridge I became our college bar steward, performed in two Footlights revues, and debated at the Union.
My first mystery novel, The Officer's Wife, is based on my Army experiences. In particular, I underwent "combat lifesaver" training and still have the kit that features prominently in the plot.
My website for popular mathematics, Platonic Realms, has been continuously online since 1997, will soon be re-launching with an online store and new content, and is used by thousands of students and educators every day.
My grandfather Paul was an amateur ornithologist, and took me on many nature outings when I was small, as well as to the zoo and the natural history museum. Consequently I have always been something of an amateur naturalist. I especially love zoological gardens, aquaria, and natural history museums, and visit them wherever I travel. Zoos I have visited—some frequently—include the Denver Zoo, the Hogle Zoo, the Cheyenne Mountain Zoo, the San Francisco Zoo, the San Diego Zoo, the Woodland Park Zoo, the Point Defiance Zoo, the National Zoo, The London Zoo, and the Tiergarten Nürnberg. I have visited sundry aquaria on both coasts and in between. Among the natural history museums I have visited are the Denver Museum of Natural History (practically grew up there—it's now the Denver Museum of Nature and Science), the Smithsonian National Museum of Natural History, the American Museum of Natural History, the British Museum of Natural History, and the Cambridge Museum of Zoology which houses Darwin's collection.
I collect decorative eggs. No reason.