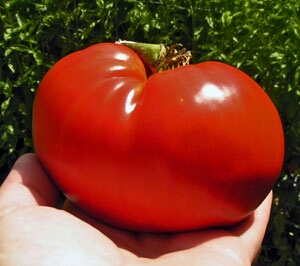 I am of the generation that can't not immediately get an image of the iconic Campbell's brand can in my mind's eye whenever I hear the words 'tomato soup.' Truly, we grew up on it, and for a kid it's not half bad. But we did grow up and I forgot all about tomato soup—the world was just way more interesting than that.
I don't recollect where I was when I first had a 'cream' soup thickened with rice, but it was a revelation. It brought my grown-up tastes back to tomato soup and taught me what I had been missing.
As with any dish featuring tomatoes the quality of the dish is contingent on the quality of the tomatoes. Best is fresh-picked heirlooms, and fresh-picked whatever-else is next best. Then in descending order of wonderful: those same tomatoes canned at home, good canned tomatoes from the store, and, in last place and way behind the pack, any ordinary 'fresh' tomato—cultivated for toughness, picked green, and shipped cold—in the produce department. If the tomatoes you have available aren't quite up to flavor, add a little tomato paste. But not too much.
This trick of using rice to replace the cream works with any cream-of-[insert vegetable here] soup. It takes very little rice, and produces a richly satisfying soup without masking any of your chosen vegetable's flavor. Naturally, we have tomato soup with grilled cheese sandwiches. (More on revisiting that childhood favorite another time.)
Tomato Soup
| | | |
| --- | --- | --- |
| 1 | lbs | tomatoes, skinned, and seeded |
| 1 | whole | carrot |
| 1/2 | whole | onion |
| 3 | tbs | white rice |
| 1 | cup | vegetable broth |

| | | |
| --- | --- | --- |
| 1 | clove | garlic |
| 1 | tsp | sugar |
| 1 | tbs | basil, plus a little fresh basil or oregano for garnish |
| 2 | tbs | olive oil |
| 2 | tbs | yogurt |
| | |
| --- | --- |
| 1 | Heat the oil in a medium sauce or saute pan and gently brown the onion for a few minutes, then add the rice (uncooked), carrot, and garlic and maintain a gentle heat, stirring occasionally, until the vegetables are lightly cooked. |
| 2 | Add remaining ingredients, bring to a boil, cover and simmer until the rice is tender, about 15 minutes. |
| 3 | Remove from heat, uncover, and stir occasionally until cooled enough to go in the blender. Puree the soup until smooth (add a little more broth if too thick) and return to the pan. Adjust seasonings, and return to a bare simmer. Serve hot with a swirl of sour cream or yogurt and fresh basil or oregano to garnish. |
Servings: 2
Yield: 3-4 cups
Cooking Times
Preparation Time: 15 minutes
Cooking Time: 30 minutes
Inactive Time: 15 minutes
Total Time: 1 hour
Nutrition Facts
Serving size: 1/2 of a recipe (16 ounces).

Percent daily values based on the Reference Daily Intake (RDI) for a 2000 calorie diet.

Nutrition information calculated from recipe ingredients.

Amount Per Serving

Calories

350.55

Calories From Fat (41%)

144.01

% Daily Value

Total Fat 16.3g

25%

Saturated Fat 2.54g

13%

Cholesterol 2.09mg

<1%

Sodium 858.22mg

36%

Potassium 931.06mg

27%

Total Carbohydrates 45.88g

15%

Fiber 6.17g

25%

Sugar 10.77g

 

Protein 7.59g

15%